African Swine Fever (ASF) is a notifiable animal disease which affects domestic pigs and wild boar. In its African countries of origin the ASF virus is transmitted by soft ticks. These are negligible in Central Europe. Here, transmission occurs through direct contact with infected animals (secretions, blood, semen), ingestion of food waste, pork products or preparations and other indirect routes of transmission (vehicles, contaminated equipment including hunting gear, agricultural tools and machinery, clothing). Contact with blood is the most efficient route of transmission. After infection the animals develop very severe, but unspecific general symptoms. ASP is no zoonosis, i.e. a disease which can be transmitted from animals to humans, and therefore represents no danger for humans. 
Recommendations for animal holders, hunters and veterinarians
In view of the current ASF situation in Europe particularly hunters are requested to report any increased occurrence of dead wildlife (wild boar) to the competent authorities and to send in samples (particularly blood, lymph nodes, spleen, lung) for investigation. 
Source: https://www.fli.de/en/news/animal-disease-situation/african-swine-fever/ 
EFFICACY TESTS ON EMERGENCY DISEASES
Intensive livestock production is an industry on wheels. Air, sea and land transport networks continue to expand in reach, speed of travel and
volume of passengers and goods carried. Pathogens and their vectors can now move further, faster and in greater numbers than ever before.
Important consequences of global transport network expansion are infectious disease pandemics such as African Swine Fever and Avian
Influenza.
Multiple institutions and laboratories have tested Virocid®, mainly in Europe and the USA. Virocid® has been tested according to both European
Norms and North American norms (working with 5% organic matter and 400 ppm hard water to simulate field conditions). More than 90 different
bacteria, virus, fungi and their spores have been tested. Virocid® kills all of them at very low dilution rates.
For a complete list of available tests, check out www.virocid.com
RECOMMENDED SOLUTIONS FOR CLEANING & DISINFECTION

Biosafe is an extremely safe universal cleaner* Biosafe is a very effective cleaner for equipment, sensitive materials and vehicles. Thanks to the combination of powerful cleaning
agents and special corrosion inhibitors, Biosafe is ideal for all corrosion
sensitive surfaces (e.g. aluminium, copper, zinc, …).
* Approved formula Keno™ 4000
Corrosivity test
Test 1
Aluminium plate after 24 hours immersion in 100% solution of classic alkaline cleaner.
Test 2
Aluminium plate after 24 hours immersion in 100% solution Biosafe.
Conclusion
The aluminium plate was heavily corroded in test 1; no corrosion measured in test 2 when the plate was immersed in Biosafe.
Versatile use with Biosafe
Biosafe is not only safe but multifunctional. It can be applied in farms, hatcheries but also on vehicles and farm vehicles. It has very good cleaning properties and will let your vehicle shine like never before. This product is based on the latest cleaning technology making it highly efficient.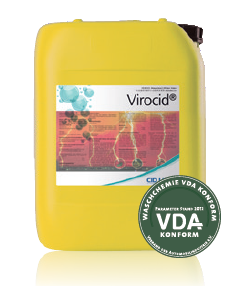 Non-corrosive
Virocid® at 0,5%, after 1000h of immersion causes no corrosion on surfaces commonly used in livestock industries and therefore can be used safely.
Corrosivity test done at CIRLAM laboratory based on UN no. ST/SG/AC.10/11/Rev.4 guidelines.
Equipment
Virocid® is VDA approved* at 1% as class A.
Temperature range
Virocid® can be used between 4° - 60°C, and even in freezing temperatures, by adding propylene glycol. Also tested in seawater (CFR Test University of Bergen, Norway). Test available upon request.
More information about these products

More info about our boot hygiene and transport protocol, can be found on the CID LINES distributorzone.