Avian Influenza | Introduction | Prevention measures | Personal hygiene program | Vehicle disinfection program | Decontamination program​
Avian Influenza Outbreaks 
Definition
Avian Influenza is a viral disease with symptoms which can vary from a mild disease with little or no mortality to a highly fatal, rapidly spreading epidemic (highly pathogenic avian influenza) depending on the infecting virus strain, host factors, and environmental stressors.
Aetiology
Influenza viruses belongs to the family of the orthomyxovirusses, which are single stranded RNA viruses.
Transmission
Spread by aerosol via the respiratory tract and breathing contaminated faeces, vomits, etc.
Can also be spread by wild water fowl
Clinical signs
Incubation period is hours to days, depending on age, sex, species affected, concurrent infections and pathogenicity of virus
Signs of Avian Influenza are extremely variable. In some flocks the only evidence of the infection is seroconversion i.e., the birds develop a detectable antibody titer to AI. AI can also be manifest as respiratory, enteric, reproductive or nervous system disease. Decreased food consumption and drops in egg production are among some of the earliest and most predictable signs of disease.
Signs including coughing, sneezing, ruffled feathers, swollen heads, watery eyes and sinuses nervous signs like depression, and diarrhoea may occur together or singly. Rapid mortality (fowl plague) occurs in with virulent strains.
Post mortem lesions
Lesions include mucous in trachea, air sacculitis, swollen head or wattles, egg peritonitis, sinusitis, watery lungs, and fibrinous enteritis.

Pericarditis, necrosis of skin and gastro intestinal tract; haemorrhages on wattles, combs and legs, necrotic foci on liver, spleen, kidney and lungs, and haemorrhages at junction of proventriculus and gizzard can be seen with fowl plague.
Prevention
As wild birds are considered as a major source of Avian Influenza, direct contact between your flock and free flying birds (and their faeces) should be prevented.
AI can be spread via faeces from infected birds on clothing or equipment. Therefore, it's very important to control traffic between infected and uninfected farms/birds. Fogging the populated barns can be part of a prevention program to minimise the risk of contamination. Check your disinfectant label to find the right dilution.  
During outbreaks in your region, correct application of cleaning and disinfecting procedures is extremely important! Also do not forget personal hygiene: take on clean working clothes, disinfected booths when entering the barns. Pay attention on hand hygiene: washing and disinfecting of hands can already prevent the transfer of many germs! Taking a shower before and after entering the farm is also advisable.

How to clean and disinfect
Influenza viruses are killed by most detergents and disinfectants. Just be aware of the fact organic material has a negative effect on the efficacy of a disinfectant: viruses which are covered with manure are well protected and can survive up to approx. 100 days in wintertime. Complete removal of organic material is therefore an essential part of an effective disinfection procedure. Contaminated litter and manure should be buried in order to not spread the infectious virus.
After litter and manure is removed, clean and disinfect all surfaces, respecting the application recommendations of the manufacturer. Be sure that you use a broad spectrum disinfectant, which is proved also to be effective in the presence of 5% organic load and when applied with hard water!
According to the FAQ, material, contaminated with excretions (particularly poultry faeces), are the 2nd most dangerous means of spread (after life birds).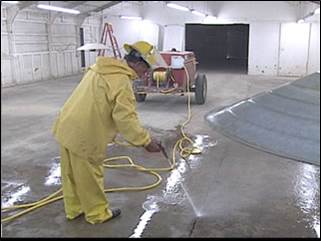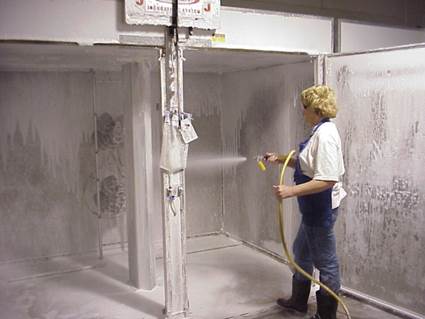 Update on situation
History on outbreaks
After the outbreaks in 2003 in Netherlands and Belgium, highly pathogenic Avian Influenza Virus started to make its tour in Asia Pacific in 2004 : this epidemic disease is already reported in Korea, Japan, Vietnam, Taiwan, Laos, Cambodia, Thailand, Indonesia, Pakistan, China. 
Outbreaks have been controlled successfully in Belgium and the Netherlands, but for many parts of Viet Nam and Indonesia and in some parts of Cambodia, China, Thailand, and possibly also Laos, FAO has warned that the H5N1 virus continues to be detected  
In late July 2005, official reports to the OIE from government authorities indicate that the H5N1 virus has expanded its geographical range. Both Russia and Kazakhstan reported outbreaks of avian influenza in poultry in late July, and confirmed H5N1 as the causative agent in early August. 
The occurrence of the disease in India, reported on 18 February 2006, is part of a recent pattern of rapid geographical spread of the virus in wild and domestic birds. India is one of the 13 countries that have reported their first cases of H5N1 infection in birds since the beginning of February. (The 13 countries, listed in order of reporting, are Iraq, Nigeria, Azerbaijan, Bulgaria, Greece, Italy, Slovenia, Iran, Austria, Germany, Egypt, India and France.) On 20 February, Malaysia reported a fresh outbreak in poultry after having been considered free of the disease for more than a year.
The situation in these recently affected countries varies greatly. Most European countries with good veterinary surveillance have detected the virus in a small number of wild birds only, with no evidence to date of spread to domestic birds. In Nigeria, as in India, the first cases were detected in large commercial farms, where the disease is highly visible and outbreaks are difficult to miss.
For human health, experience elsewhere over the past two years has shown that the greatest risk of cases arises when the virus becomes established in small backyard flocks, which allow continuing opportunities for close human contact, exposures, and infections to occur.
All available evidence indicates that the virus does not spread easily from poultry to humans. To date, very few cases have been detected in poultry workers, cullers, or veterinarians. Almost all cases have been linked to close contact to diseased household flocks, often during slaughtering, defeathering, butchering, and preparation of poultry for consumption.
No cases have been linked to the consumption of properly cooked poultry meat or eggs, even in households where disease was known to be present in flocks.

Update on situation - disease outbreaks map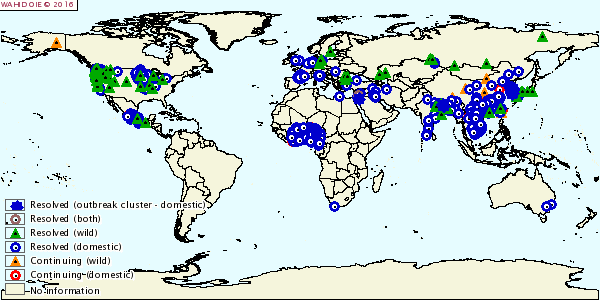 Conclusion
As biosecurity is one of the main measurements to prevent this disease , we receive a lot of questions from our distributors in this region. Therefore we would like to share our experiences we had during the Avian Influenza crisis in Belgium in 2003:
CID20 / VIROCID (www.virocid.com) were advised by the Belgian Federal Agency for the Safety of the Food Chain (FAVV) in the framework of hygienic measurements which had to be taken during the Belgian AI crisis (April-June 2003).
Moreover, CID20 / VIROCID (www.virocid.com) was used by the Belgian official service who had to clear up and decontaminate infected farms (official declaration).
For more information about application of our products in order to prevent AI, or for effective hygiene protocols, contact us:
Tel: +32 57 21 78 77
Fax: +32 57 21 78 79
E-mail: preventionhelpdesk@cidlines.be