Avian Influenza | Introduction | Prevention measures | Personal hygiene program | Vehicle disinfection program | Decontamination program​
People working on infected premises can get heavily contaminated. Therefore the risk of cross-contamination has to be minimised. All places where infected animals ( dead or alive) are inspected, at slaughter sites, at the site of carcase disposal, or where manure, straw, beddings are removed from buildings pose the greatest risk at heavy personal contamination.
All persons should go through the same procedures when a personal decontamination site is established. Before entering and before leaving the contaminated site, personal decontamination has to be applied. All overalls should be disinfected (soaked in the proper disinfectant) and disposable ones should be put in a plastic bag and burned. Boots have to be disinfected and used only on the premises.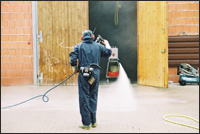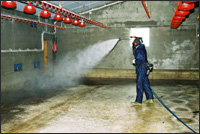 Property decontamination
After identifying the suspected disease, be sure to choose the right disinfectant. Use a broad spectrum disinfectant which is active at all temperatures and effective in the presence of organic matter such as CID20 / VIROCID (www.virocid.com).
First disinfection
Preliminary disinfection should be commenced as soon as possible after the presence of disease is identified. All areas known to be infected should be decontaminated in order to reduce the risk of spread. Disinfect with CID20 or VIROCID (www.virocid.com) all buildings, roads, paths, entries, exits... One should continue to disinfect these areas step by step until the first clean-up procedures start.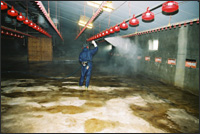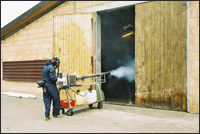 Clean-up procedures
Killing of infected birds is normally done by a special team appointed by an official institute responsible for the control of infectious diseases. After birds have been killed, they should be transported in hermetic closed containers to special combustion furnaces. Thermal fog the barn with VIROCID or CID20. Don't use water or disinfectant to minimise the weight of the run out to be handled. Close the barn hermetically during 2 days. After ventilation, remove all manure, dirt and debris. This material was already slightly disinfected during the preliminary disinfection. The easiest and safest disposal of faecal material is burial. Transport of this manure, dirt and debris from the barn to the place where it will be burned is ideally done in hermetic closed containers. 
Full disinfection
Dismantle all material which cannot be cleaned in place, clean and disinfect them.

Use a foam- or gel forming detergent like BIOGEL to soak roofs, walls, floors, boxes, feeders, drinkers or any other material that has been in direct contact with the birds.

BIOGEL improves the contact time of the detergent with the soaked material for an improved cleaning result. Rinse all material under high pressure after 10 minutes.

Disinfect all equipment and interior of buildings with CID20 / VIROCID (www.virocid.com). Close buildings afterwards. Additional fogging is advised.

Disinfect all exteriors of buildings, roads, paths, gates, roadways, entries and exits with CID20 / VIROCID (www.virocid.com).

A second full disinfection of the buildings is advised after 14 days. One can repeat the same full disinfection programme as before.