This is what Guido de Bree, sales manager for the Netherlands and Germany of CID LINES, says. He advocates a turnaround for laying hen owners by always cleaning their stables wet instead of dry. "There are laying hens keepers who have not cleaned their stable for eight years. In the meantime, they have treated blood lice with various means, resulting in a thick impermeable layer of grease with dirt. That is a breeding ground for bacteria and viruses. "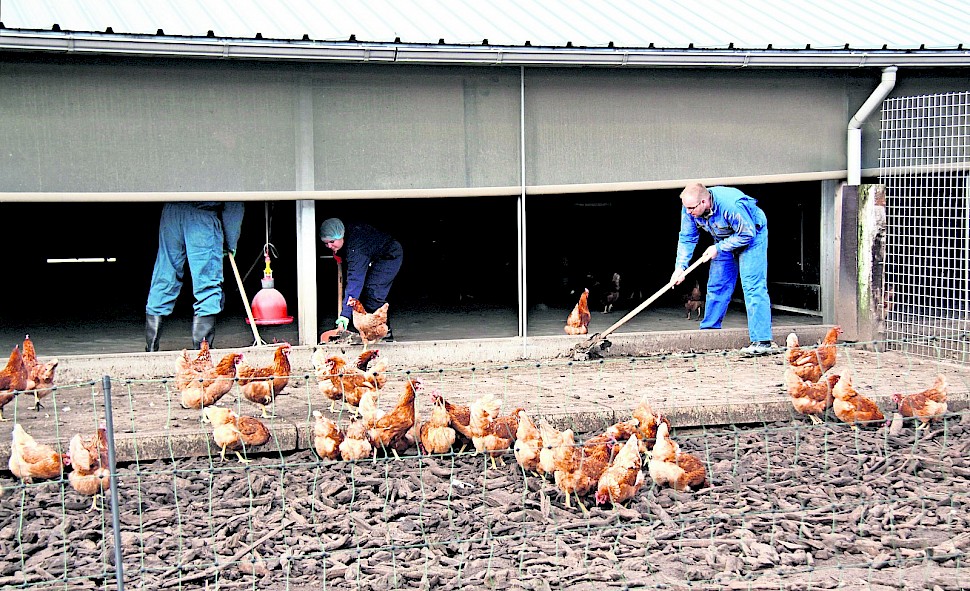 "Soak the entire barn with an alkaline detergent. Because you use a strong alkaline agent (pH 12) you loosen the greasy deposits. By then thoroughly rinsing the barn, you remove all the dirt containing all sorts of viruses, bacteria, blood lice and worms. Because the barn is nicely clean, the disinfectants used will be much more effective. "
"If there were problems with parasites or worms in the previous round or if you want to treat them preventively, then this is the time to use a specifically registered disinfectant here," says De Bree.
'Well paid time'
That the stable system is affected when it is wet cleaned, finds De Bree not a good argument. "When you use the right alkaline soaking agents, they do not affect the barn inventory. The product Kenosan has undergone all kinds of corrosion tests in which there is a small decrease after 500 hours of intensive washing of 0.054 mm on the weakest metal aluminum. That is virtually nil and so often the barn is not cleaned ", says De Bree. The use of caustic soda advises De Bree. "By using that tool you will be able to get a new inventory faster."
Many laying hen owners find that wet cleaning takes too much time and that many places in the barn are not easily accessible. "Wet cleaning of stables is a well-paid time. By wet cleaning stables you can significantly reduce the disease pressure for the next round. Layer hen farmers, who clean their houses and clean them properly, have to use curative products later than laying hen farmers who do not, "says De Bree.